Chiropractic Testimonials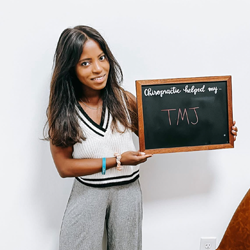 Barbarah P.
I spent three miserable days suffering from TMJ, although I didn't know that's what it was at the time. My dentist couldn't do anything besides prescribing fluoride toothpaste, which did nothing. Finally, I reached out to Dr. Adam at Restoration Family Chiropractic and explained what was going on. 
They saw me immediately and that night I slept like a baby! And after just two adjustments my TMJ flare-ups completely went away! I honestly couldn't believe it! Before, I couldn't even drink anything cold because of gum sensitivity, and worse, when eating I was only chewing on one side of my mouth because my gums hurt so bad. Now, it's been an amazing two months since my first adjustment, no more pain and or gum sensitivity which is unbelievable, such a great feeling! I'm just so grateful to have this option of care and to have found RFC! I can't thank them enough for the quality care they provide! We are big fans over here!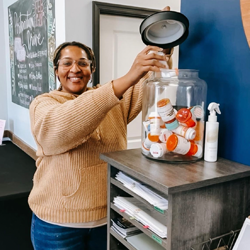 Angela W.
I have been suffering with severe and chronic pain for about 30 years. I suffered from migraines, celiac disease, severe digestion issues, severe back pain, neck pain, neuralgia, neuropathy in my legs and feet, asthma and depression due to dealing with all this pain, I had severe pain in my tail bone, my sacrum I had trouble controlling my body and weight and had irregular monthly cycles for years before starting my Chiropractic plan.
I spent years putting off my health due to work and finances and saying I didn't have the time for my health. When I finally did take back my life and took back my health, I found this practice. I got my life back, and I will forever be grateful. Don't keep pushing your health back!
"Highly recommend. I am a Johns Hopkins medical assistant and have been going here for about 3 years now after I had a major car accident that injured my spine and entire right side of my body. With the help of Dr. Adam I can walk without pain again!! No words can describe how grateful I am. Thank you!!"
- Kaila P.
---
"We love working with Dr. Adam and his team at RFC! Thanks to Dr Adam I was able to sleep better during pregnancy and not be in constant pain throughout the day. Dr Adam also has tremendously helped our new baby to relieve her from painful gas and reflux."
- Meg S.
---
"I have been under traditional chiropractic care for more than 20 years. However, I have noticed much more significant and lasting results since receiving the type of treatment and care under RFC and others like them. Torque Release Technique is the future. My IBS-C has improved dramatically, my plantar fasciitis has disappeared, my mood, sleep, and energy levels have improved immensely, and due to the seriously reduced pain and improvement in flexibility and muscular strength, I have been able to do more activity, craved healthy foods, resulting in a lost of 10 lbs in less than 2 months. I can't stop recommending RFC to all my friends and family, and wanted to go "public" to share with the world."
- Tia N.
---
"I have been receiving chiropractic care here for about 6 months and I look forward to every appointment! Every concern I've had has been addressed! I am a doula and I recommend Dr. Adam to every pregnant woman I meet!"
- Maria W.
---
"Amazing Team and business. They care about you and your health. Tremendous resource and love these folks."
- Jeffrey R.
OFFICE HOURS
---
Monday
10:00am - 12:00pm
3:00pm - 6:00pm
---
Tuesday
3:00pm - 6:00pm
---
Wednesday
10:00am - 12:00pm
---
Thursday
10:00am - 12:00pm
3:00pm - 6:00pm
---
Friday
Closed
---
Saturday & Sunday
Closed